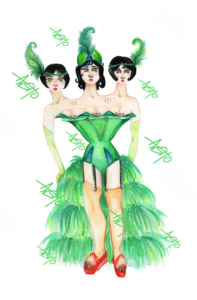 Until a couple of days ago, I had never heard about the colour shade "Hooker's Green". I was researching for veganartstuff.info  and stumbled across this name on  https://www.qorcolors.com/products/watercolors .
I got curious where the name originated from and it wasn't the profession, but  the English illustrator W. Hooker, it was named after posthumously in the mid-1800s.
The first thing that came to my mind  after reading the name was however the film "Irma La Douce" starring Shirley MacLaine and Jack Lemon. In the film, Irma La Douce is a harlot, who dresses herself in green.  She and her little white dog wear green bows, she wears green lingerie, garter belt, stockings,…
Now I wonder whether the character was purposely dressed in green because of "Hooker's Green", or whether it was a mere coincidence. It must have been on purpose. It is  too nice a detail to not have been placed intentionally.
The Qor Watercolor shade  "Hooker's Green" is vegan-friendly (in case you are in need of a vegan-not harlot- but illustrator Hooker-green) and you can find more about it here :    https://www.veganartstuff.info/2018/04/05/qor-watercolors-except-bone-black/ .
For vegan-friendly art supplies visit  :  https://www.veganartstuff.info
Source: